Call for Papers
Theme: Contemporary Themes and Issues in Management and Business Research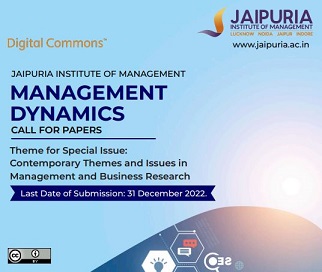 Last Date for Submission: 31st December, 2022 Link for Submission: https://www.editorialmanager.com/mandyn/default1.aspx Journal Website: https://managementdynamics.jaipuria.ac.in/
Editor-in-Chief:
Anubhav Mishra (Jaipuria Institute of Management, Lucknow)
Managing Editors:
Nidhi Singh (Jaipuria Institute of Management, Noida) Saumyaranjan Sahoo (Jaipuria Institute of Management, Jaipur) Sahil Jasrotia (Jaipuria Institute of Management, Indore)
Business and management are shaped by both external and internal forces. The external forces are driven by the way society at large views the role of business and management in contributing to social goals. The internal forces are driven by the changing nature of management thinking and research. These forces raise important recurring debates: should private corporates be left to their own devices, or should there be monitoring and channelization of their activities? How intrusive should the state be in this respect? How to communicate more effectively within the organization and to the outside world? How to create new markets for basic survival as well as for completely new products?
This issue will critically examine some of the themes and issues which have acquired urgency in the contemporary world. It will deal with currently relevant topics with the richness that they deserve and simultaneously eschew fashionable jargon to present lucid and rigorous studies with sound theoretical foundations. The accepted articles will be comprehensive and authorize resources and will explore major debates from fresh perspectives on the contemporary business issues. The primary purpose of this special issue is to make available the findings of advanced research, empirical and conceptual, into matters of global significance, such as corporate organization and growth, multinational enterprise, business efficiency, entrepreneurship, technological change, economics, operations, AI & machine learning, human resource, international business, public policy, development studies, accounting, finance and banking, marketing, human resource management, professionalization and business culture.